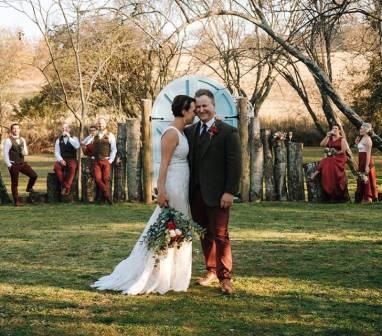 From Ester – Midlands Style Events – Owner/Stylist/Florist/Creative Director
So, whilst we were busy with Kyle and Nix's wedding set-up (Friday 21 July 2017 at the lovely Orchards wedding venue, I received a phone call from my Mom (my best friend) who told me my Dad (my first love) was in ICU and it was not going well. Nix told me to stop what I was doing and go but I said no I must finish the decor and styling first. Then I got that horrible phone call we all dread. Dad is gone…through a cold shivering core and broken heart I managed to finish the decor and flowers and got a very good friend in the wedding business to stand in for us on Saturday during the wedding and off we went. Never ever did I think we would still a year later get a warm loving letter from our most awesome bride with the biggest heart and loving family to say she is still thinking of us.
Here is the sms I received just a week ago….Thank you Nix and Kyle … We wish you a lifetime of happiness and Love.
Hi Es, Kyle and I were with friends today and even after a year they reckon our wedding was the best they'd ever been to. I just wanted to say thank you for making memories for us that will last a lifetime. You are so special and amazing at what you do. Sending blessings and Love your way. I'll be thanking you for the rest of my life and always mindful of how much you sacrificed. Lots of love, Nix and Kyle xxx
---
From Rachel and Kyle (planned this wedding with us from London and only met them 5 days before her wedding)

Hi Ester,

I hope this email finds you well. I'm sorry it's taken me so long to get in touch with you.

All I can say is WOW!! I was blown away when I saw it on Friday and then on Saturday it truly came to life:)

All the setup that you did was incredible and it all came together far better than I could have ever imagined it! You honestly created the perfect setting for our wedding and Kyle and I want to thank you so so much for that.

You are exceptionally talented and we were lucky to have found you to make our day so special!

I wish you all the best for the future.

Best wishes and a massive thank you again,

Rachel

---

Hi Mark and Ester,

We hope you are keeping well and no doubt busy!

We are finally home and settled down long enough to write some emails 🙂 We were just wanting to send you an email to say thank you so much for all your hard work on the day of and leading up to our wedding. We really appreciate it!

I will always remember you saying to me "Helen, relax! I'm in your head!" You should really trade mark that caption as it was classic and so true!!

You guys were fantastic, professional and so well coordinated! Made the day such a beautiful breeze for us! Thank you!

Kind regards

Anchris and Helen

---

Hi Ester..

So my HUSBAND 🙂 and I are back in the swing of things..

We both just want to say thank you SO INCREDIBLY MUCH for EVERYTHING you and your team did for us.. That hall…oh my word we both burst into tears when we saw it, it was absolutely breath taking!.. You guys went above and beyond… with all the signs and little extras…wow! I cannot thank you enough Ester! You guys are incredible and we will definitely rant and rave about you to everyone we know who is getting married! We couldn't of asked for a more beautiful and perfect wedding! We are both so sad its over!.. Those gorgeous table clothes were a HIT! by the way, so lucky I was your first "brave" bride 😉

I'll send you some pics as soon as we get them from our photographer!

Warmest regards and all the best for everything ahead.. Keep being awesome 🙂

The New Mulders 🙂
xxxxxxx

---

Good Evening Ester and Nicky,

Graeme and I truly cannot thank you enough for an absolutely spectacular day. The decor and flowers were absolutely phenomenal and we couldn't be happier. We let you just fly with most things and what was presented to us far exceeded any expectations we had. We really could not have asked for anything more, so again a heartfelt thank you to both of you for making our day as magical as it was.

We will definitely recommend your services to anyone looking.

Sian and Graeme

---

Hi Ester & Mark

I just wanted to send a quick mail to let you know how much fun our guys had with you on Saturday! They came back raving about how awesome you were to work with and spend time with.

Thank you so much for being considerate of the video and for giving us time and space in which to work. Thank you for being super organised, keeping everything flowing so well and for just being so nice generally. You really were awesome!

We really do appreciate it and look forward to working with you much more in the future;-)

If you would like to check out our work, here is a link to our latest wedding highlights

Mike & Lara

---

Dear Ester, Mark and the team
Wow, what can I say here that is going to do your amazing work justice?
First of all, a HUGE thank you for stepping in, two weeks before our wedding! What a relief it was dealing with someone so professional after struggling with an MIA florist. Not only did you sweep in and save the day, you gave us so much more than we asked for. You and your team were every bit the professional and friend and we could honestly feel that you truly believe in romance, weddings and excellent service.
Two weeks before the wedding, it got to the point where we were just happy to have a florist! We had never met you and we dealt with everything over the phone from Joburg. After all the drama, little thought was actually given to how the hall would look and when I stepped into it I was blown away. Your creativity and eye for detail is truly an art and without those beautiful flowers and special touches our day would not have been so special. We had the worst weather you could imagine, it rained, it was freezing, we were up to our ankles in mud, and those centrepieces made all the difference. The hall looked warm, inviting, glowing and romantic.
Thank you for everything, for accepting the job with so little time to go, for turning our wedding day into something beautifully romantic and for just being so 'cool' about everything, handling everything in your stride and making it feel fun again. I can honestly say that any couple booking you can sleep easy at night, their wedding will be beautiful.
We still maintain that you guys were our best service provider and the best decision we every made!
Thank you a thousand times over!
Byron & Gillian Sadler
20 April 2013
The Bend, Natal Midlands

---

Dear Ester, Mark and the Midlands Style Event Team

From the moment we met with you Ester, we got the best feeling. You treated us like we were the most important people in the world. You got excited about our wedding as though it was your own. In fact that is how you treated our day, as though it was your day to. That is something we are so thankful for.

Planning a wedding can be so stressful as you know, especially the decor and the running of events during the day, but with your wealth of knowledge and eye for detail we knew we were in great hands. The church and the venue was something out of a dream. You and your team created our perfect day. Not only did you set up the decor beautifully, you created the most amazing ambiance. And the other vendors that got to work with you for the the fist time raved about your professionalism

Ester and your team, you all went above and beyond. You did things that weren't even expected, and you did it with loving care. Your concern for each person involved in the wedding did not go unnoticed and it was greatly appreciated. Thank you for coordinating our day down to the last second, it flowed so nicely.

Creating someones special day is not an easy task and we have so much respect for what you and your team do.

We were so lucky to have Midlands Style Events involved in the making of our wedding. I wish I could have a wedding every year just so we could get to deal with you all the time!

Thank you again, from the bottom of our hearts.

Lots of Love
Tamara and Paul Hamblin
The Rankin Family, The Hamblin Family and all our guests!

---

Dear Ester
We returned from our honeymoon in Mauritius a few days ago. It was a wonderful start to married life!

Richard and I wanted to thank you for doing such a good job setting up the décor and flowers for our wedding. The Reception venue and Chapel looked beautiful. I especially loved the large flower arrangements that were at the front of the chapel. The bouquets and pinhole flowers looked so lovely as well. Our guests who took flowers home said they all lasted a long time, especially the tulips.
And also thank you for coming in extra early to have some of the décor ready so our photographer could take photos.
It made such a big difference to us not having to worry about decorating ourselves and so we were able to relax before the wedding.

Kind regards
Linda & Richard

---

Hi Ester,
Just wanted to say a really big thank you for doing such an amazing job on the flowers and décor for my wedding! J. I made the mistake of going through the dining room to get to the Chapel, and when I saw the tables and everything, I burst into tears! It was exactly how I imagined it – maybe even better! You and your team are amazing, and you really made my day incredibly special. You were also so sweet to work with, and I really enjoyed planning the décor with you.

Thanks a mill – you really are a star!
Kind regards
Kim Lahner

---

Hi Ester

We would like to send a heartfelt thank you to you and Mark for all the hard work you did for our wedding. You and Mark put your heart and soul into it and it was evident. The deco you did was amazingly beautiful … . . .just the way we wanted it!!! The co-ordination was perfect, you went an extra mile to make sure our day was magical. I also want to thank you for being a friend and providing a listening ear and support towards the wedding. Vongani and I are so happy with what you two did. We had also so much fun!! You and Mark are a special couple and I wish you all the best in your business. Thank you for making our day special.

Lots of love,
Fikile and Vongani

---

Thank you so very much for all you did to make our day the very special and amazing day it was! The way you set it all up was beyond our expectations! Everything looked exquisite! And thanks to you, I didn't need to stress about a thing as I knew you had it all under control. Without you, I would have stressed about everything. You stayed so calm and made sure we were calm. Although you were behind the scenes, we noticed you for all the hard work you put into making our wedding day the amazing, spectacular and stress-free day it was. We couldn't have done it without you! Thank you for listening to everything I said and taking it all in to make it our perfect and memorable day! You and Mark are truly such wonderful people to work with and you make an excellent team!

My mom also had a few words for you:
Thank you so much Ester for making Reinier and Kate's wedding day the most wonderfully happy and relaxed day for us all. It is so special to have someone like you to have been such a big part of the wedding, attending to all that needed to be done so quietly,patiently and efficiently and knowing that you knew exactly what the bride and groom needed.

Thank you to Mark too for all his help.

With our love
The Boyce and Bresser Families

---

Dear Ester and Mark,

It is so difficult to explain how grateful we are for the amazing wedding you created for Nick and I but I hope this little poem helps explain our appreciation.

Wedding day wishes from little girl dreams
Of magic and romance and fairytale themes
Flawlessness flowing like gifts from above
A day full of laughter, a day full of love.

Through each treasured memory and joyful tears cried
We had two special angels there by our side
Our wedding day wishes and dreams came true
The moment we entrusted them all to you

Once again, thank you so much for everything you both did to make our wedding day so incredibly perfect! We couldn't have asked for anything more as all our wishes were granted!
We wish you all the best for the future and hopefully we can keep in touch! I know my mom is certainly going to miss chatting you all the time!

All our love, Stacey-Leigh and Nicklaus

Dearest Ester and Mark
Thank you so much for making Stacey-Leigh and Nick's wedding so perfect. You really are the best in the business, at least here in KZN, (I don't know others in the other provinces) But I am sure you would give them a run for their money too.
Thank you for being such treasures
All my love
Mandi Fountain (Stacey-Leigh's Mom)

---

Dear Ester

Jeremy and I would just like to thank you for the role that you played in our wonderful wedding.

Everything was absolutely stunning! From the chapel flowers to the bouquets to the guest tables to the main table and the cake, we were really blown away by it all! The reception was just as I had pictured it, it was a fairy tale! Our bouquets were absolutely stunning and I wish they could have lasted for ever; and apparently, the cake was delicious although we never got to taste it (it was gobbled up!).

Please would you also extend our thanks to Gayle and Sarah, from the few pictures we have received from our photographer our hair and make up was absolutely stunning.
Peter was fantastic too, however, I have already sent him an email.

All in all, thank you so very much for the very important role you played in our day, it would have been impossible to organise from Johannesburg without you. We loved every aspect of your work – thank you – and will definitely recommend you!

With love and best wishes, Laura and Jeremy Capon

Dear Ester,

Thank you so much for the exquisite decor and floral arrangements and bouquets for Laura's wedding at The Windmills on 28/01/2012. You really transformed the reception into a fairyland. The cake was superb, as was DJ Skinny.

Gayle and Sarah were phenomenal. Everyone's hair and makeup were absolutely beautiful. Please pass on our gratitude and compliments to all of the above people.

Thank you, Ester, for your attention to detail and for the passion you put into what you do. You really are so talented.

We wish you all the best for 2012.
Sincerely,
Neva and Kevin Atkinson (Laura's Mom and Dad)

---

"Planning a wedding is always difficult and stressful, and to make matters worse we had to do it from London. We met Ester and immediately knew we were in safe hands and she provided us with some wonderfully creative ideas and ways to save money. She took away all the stress and fuss and allowed us to focus on the actual wedding day and that meant the build up was relaxed and we could have fun and enjoy ourselves.

Ester was great to work with, very passionate and enthusiastic and nothing was too much trouble for her. She made it all very easy and never stopped smiling the whole way through. Thanks to her the wedding ran smoothly and we had absolutely no issues on the day! I highly recommend her services.
Euan and Sally"

Dear Ester

Dan and I wanted to take this opportunity to say a special thank you for what you did with our wedding flowers, especially the reception table arrangements.

We loved how you were able to take our general idea and turn it into a beautiful reality.

Thank you for all the effort and hard work.

Warm wishes

Dan and Meryl Erasmus

---

Hi Ester,

Thank you very much for all you did for my wedding, it was lovely! The tables were gorgeous, everyone commented on how lovely the room looked, thanks to you!

Will definitely recommend you in the future if I am called upon for advice,
You take care and many many thanks once again,

Kindest regards,
Leslie

---

Dear Mark and Ester

Thank you for making our special day stress free and absolutely out of this world.

It was great to just sit back and enjoy. Best of all you guys did not break the bank to achieve the stunning look I was after. I will definitely recommend your services.

Your happy bride

Lezette Bester

---

Advise for future Brides (and Grooms)

1. Get a wedding planner. Planning a wedding is extremely stressful and Midlands Style Events made the whole process seamless. We had so much fun planning our wedding with them as they made each step in the process so easy and enjoyable.

2. The day goes by so quickly. Take a few moments through out the day to step back and breathe it all in.

3. Let go and enjoy your wedding day, leave all the details to your wedding planner and just relax and have fun. It's the best day of your life, so savor every moment.

"Thank you Es and Mark for providing the fabric and sewing all the moments of our wedding day together to provide a tapestry of beautiful memories…"

---

Dearest Ester & Mark

Just a small gift to thank you from the bottom of my heart for such a fantastic wedding!

You made our day unbelievably unforgettable and special and no words seem enough to thank you for the dedication and just simply going out of your way for us.

I will NEVER forget you and you have a truly special place in my heart. The decor was like something out of a fairytale and everybody raved about the decor.

You are simply brilliant at what you do. Good Luck and we will keep in touch

Love Storm

Dear Ester & Mark

Thank you for everything that you have done to make our wedding so awesome. You far exceeded our expectations and that is very rare in this day and age.

I wish you great success for the future as you truly deserve all the success in the world. I just hope that many more couples will have the privilege to be blessed by your touch at their weddings

Love Craig

---

Just as most brides get idea's in their head's for their Special Day, so did I………. I wanted a wedding away from the city, and where other than the beautiful Midlands?
I Called Granny Mouse, which was available for the day (check), went there and loved it (check), paid deposit and booked (check), all at the time seemed like it was going to be a breeze.
Forgetting that you don't know anyone in the area……No hairdresser, No DJ's, No Ministers, No one!!Not such an easy task after all…….
Granny mouse recommended that we contact Ester for the decor, which at the time thought "What For??"
After just one call, Ester was completely commmitted. She is full of amazing idea's (which she shares freely)and nothing was too much of a problem. She is extremely well connected in the area and truely knows her stuff.

Further than just being good at what she does, it was really nice to sometimes chat to someone that is removed from your life but involved in the planning of your Special Day.
It was truely amazing to be able to relax and spend time with family , without having to worry about a thing as it was always in capable hands with Ester and her team.

Thanks a ton………….

Shelley Swart

---

Dear Es,

Wow-wee, are you guys amazing or are you guys amazing? We thank our lucky stars that we did the 3 Cranes Challenge in Feb!!!!!!!!!!!!

The venue was absolutely stunning!!!!!!!! It was absolutely stunning, and it literally blew everyone away. Now we just want to clarify 1 thing – do you know that on our priority list the decor was very far down… it just was not important to us, however we did realise what a big part of the wedding the decor was and that we had to do it properly… we always thought "No one even remembers the Decor"….

However, we have changed our minds – the decor and how you did it turned out to be an absolute highlight – we were so blown away when we looked into the venue and saw all those candles glittering and the water in the hurricane lamps twinkling. We will never forget that feeling of feeling like we were in a fairytale and that it was really US that was getting married / really OUR wedding as this was exactly the decor that we had discussed with you and that was what was on the table, so it had to be our wedding 😉

We will NEVER forget the Decor…. It is one part of the photos that we can't wait to see – we can't wait to see how Carmen captured the Decor!!!!

The printed menus were EXQUISITE! **
The place names were EXQUISITE! **
The table clothes were beautiful.
The hurricane lamps were exactly what we wanted and how we wanted them and as far as I am concerned, EXQUISITE.
I thought that using those funny hotel wine glasses would "let the decor down", not a chance, the room was too beautiful for any small thing to bring the decor down.
The candelabras were MAGNIFICENT!! as were the little glass candles on the top!
John was fantastic – such a lekker guy to have as part of the wedding! The draping and fairy lights were MAGNIFICENT!

The outside umbrellas were brill, as were the picnic blankets, the cocktail tables were FANTASTIC and served so many purposes!!! The table plan (hanging off the eave was beaut). The rose petals in the fish bowls – stunning, stunning, stunning!!!!! And Es my favorite – so many rose petals – thank you!!! The rose petals just kept on and on and on flying at us – thank you for supplying so many rose petals – I always get so bleak at weddings when the rose petals run out 😉

We even loved the heart on the dance floor – it was so wedding-y 😉 😉

What else on the decor front???…. the beaut silver bowls at the door with bottled water in (such a hit), the bamboo hearts… all stunning.

Now another thing… my Dad – very very difficult man to impress – even if he is impressed, he will never let it show. I only ever hear about things 3rd hand and years down the line! However, HE was absolutely blown away by the decor and told me so!!!! I could not believe my ears – it meant that he was so blown away by the decor that he could NOT keep it under his hat, and that is saying something!!!!! So Es and Mark, just to let you know that that is the biggest compliment ever – CONGRATS from me to you for impressing my dad so much!

Now from us… everyone told us that we were the most relaxed wedding couple ever – the reason we were was because we did not have to worry about a thing, and the reason that we did not have to worry about a thing was because you guys are the BEST!!!! You are the absolute best. We are raving about you, as is everyone else! Absolutely every single person (from the hotel, to my mum, to Sinead, to my sisters) was absolutely raving about you and asking "Where did you find Mark and Es?"

The fact that you managed to produce something so beautiful, so simple and so elegant exactly how we wanted it, even though we did not have a clue how we wanted it, is nothing short of a miracle – your style, your way with people, the way you "run your business (which I think is a very difficult business to run)" is absolutely fantastic.

So many people have asked us "so do you want to do it all over again?". Our answer is "Not a chance, we loved every minute of it but we would not want to do it all again!!"…. There is only one part that we would love to do again… …. we would like to work with you all over again!!!!!

We don't know how to thank you enough. We really wanted to pop in after honey moon to catch up as we were so sad to have missed you on the Sunday (another magical thing – to get to the venue on Sunday morning and it was totally clear!!!!!), but it looks like we are going to be going another way home (we are in St Lucia).

Lots and lots of love to you both and thanks more than words can say,

Briggs & Will

---

Hi Ester

I just wanted to say a quick thanks from Nick and I for all your hard work. I am sure I wasn't your easiest client 😉 but everything looked really stunning in the end and we appreciate all your efforts. The venue really looked lovely and thanks for all the extra touches.

We really had the most amazing wedding day and thanks for your role in that.

We don't have any official pictures yet, but as soon as we do we will send you some. Thanks for sending yours to my folks.

Take care and say hi to Mark.

Kind regards,
Nick & Andra.

---

My biggest worry for our wedding was getting the décor right whilst I live in Johannesburg and our wedding was going to be in the Midlands…

But Ester managed to create the wedding of our dreams after one meeting with her…. she took care of everything, leaving us to savour every moment of our special day!

---

Hi Ester

Just a short thank you for making our wedding the best ever Flowers flowers glorious flowers. Its a day that will be special forever, it was worth every cent and I would do it all again tomorrow. You are a special person with an awsome talent don't ever stop what you doing.

Thank You once again Love Pete and Rene.

---

Dearest Ester and Mark
Wow! We managed to pull of such a lovely wedding, but so very much of it was down to you guys. Thank you for your creativity and enthusiasm, especially when the rest of us all felt uncreative!
I loved working with you guys, it was so great to walk the "wedding journey" through with you. Thank you!Also thank you for the unexpected gift! The little hearts sit in our living room and are used to communicate anything from "time out required" to "I love you"

All our love & Thanks
Lance & Kate

---

Hi Ester,
A huge thanks to you and your husband
Your professionalism was faultless and needless to say the flowers were exquisite
If you ever come to Durban would love to have a coffee
Regards
Di

---

Dear Ester

Once again a heartfelt thanks for all the hard work, creativity and enthusiasm you put into helping us arrange and execute Irini's special day. It was such memorable day.

Many thanks
best wishes
Anna

---

Dear Ester and Mark

I am now back in the office after a divine honeymoon in Mauritius…

We just wanted to say a HUGE THANK YOU to you guys for making our day so amazing.. The decor was absolutely BEAUTIFUL, we couldn't have asked for anything better… Everyone only had good things to say about it… When I walked into the reception room I actually gasped, everything was just perfect 🙂

You guys are so warm and friendly, it was so easy working with you and I will definately recommend you to anyone planning a wedding..

Our wedding was everything we could have asked for and more, thank you so much for playing such a big role in that…

Take care and thank you once again…

Warren & Ang

---

Hi Ester,
Well we have been back a week and are now back to normality! We had such a stunning time in Mozambique! We had 5 days on Bazaruto Island which was magical! We could have stayed for another 5 days!!I just wanted to say thank you again for all your hard work! You did such a fantastic job with everything and went above and beyond expectations! It was so good to have you there on the Saturday doing all the final touches and I felt I didn't have to worry about anything. I can be a bit of a control freak at times, especially with things like this but I felt I could relax and let you get on with it which is a big thing for me! You definitely did not let us down and we loved everything!! We had such a wonderful day and all our guests said it was one of the best weddings they have been to!

Wade has already finished editing all the photos which my mom has collected for us. She is going to post over the cd to us so can't wait to see the rest of them! Please let me know if you want any photos and I can email them to you.

Will keep in touch
Emma & Robin

Hi Ester,
A huge thanks to you and your husband
Your professionalism was faultless and needless to say the flowers were exquisite
If you ever come to Durban would love to have a coffee
Regards
Di – Emma's Mom

---

Hi Ester
I do hope you are well. We are all fine and have almost recovered from the wedding excitement and things are nearly back to normal!I just wanted to thank you for all your hard work, but especially for your patience and kindness to all of us. Your unflappable nature was such a huge benefit at all times. We all thoroughly enjoyed the special day and that is laregely a credit to your excellent organisation.

If I can at any time recommend you to other wedding planners I shall do so without hesitation.

Please feel free to use my contact details as a reference.
I trust that your business will go from strength to strength.
With good wishes to you and your husband,
my best regards
Thelma

---

Dear Ester and Mark

Thank you all for assisting us in setting up one memorable wedding!! From the invitations, to the décor, hair styles, make up, cake, dress, photos and marriage officer, everything fell nicely into place! And the weather played its part, as you know it rained the morning but stopped for the ceremony and our photo's. Once we returned to the reception it came pouring down! Blessings from above!

Much love!!! Without you this wedding would not have been possible!

Kind regards
Tania and Lance
We would love to be part of your special event
It's Going to be Perfect!
Let's Plan Your Big Day!